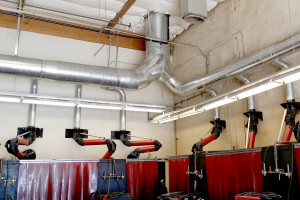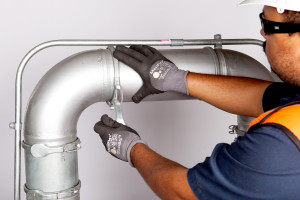 Ducting Parts
Proper ducting is a vital part of any manufacturing facility or restaurant to eliminate unwanted smoke, fumes or airborne pollutants.
Regardless of the requirements, our team of engineers and installers are ready to assist with your ducting project, whether you need a section replaced, moved, cleaned or newly designed system. We have extensive experience with duct systems offering you the duct you need in the right configuration, made from the best industrial duct materials.
Besides the traditional system, ACT represents Nordfab ducting system. Their Quck-Fit (Q-F) considered to be "The World's Fastest Ducting" for your dust collection installation.  Nordfab clamps together in seconds without welds, bolts, screws, flanges or special tools.  We can reduce the installation time by 40% using this type of system compared to traditional duct work.  Once installed, you can quickly and easily take it apart for cleaning or to configure for any floor plan changes. 
Visit our online store where you can order Nordfab ducting: www.aircleaningstore.com