Pollution Control Unit (PCU) Service
Keeping your Pollution Control Unit properly running is the responsibility of our specially trained and certified technicians.   Whether it's an electrostatic precipitator, mechanical or odor control system, our thorough maintenance and service program keeps your equipment operating at it's best.  We complete an extensive analysis on your PCU every visit and make the necessary repairs.  Air Cleaning Technology takes pride in their work and have over 38 years of expertise to show for it.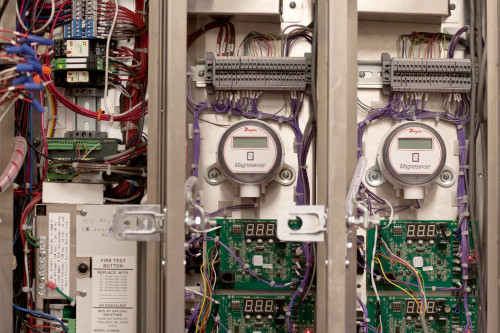 Mechanical - PCU Service
Service performed:
1. Inspect and test differential pressure sensors.
2. Clean tubes and calibrate pressure sensors as needed.
3. Clean and inspect filter tracks.
4. Clean and inspect fusible links on fire dampers.
5. Lubricate fire damper tracks.
6. Replace fusible links as needed
7. Inspect and clean MAG Starter.
8. Test odor control spraying system (if applicable).
9. Record settings for ON/OFF cycle of odor control (if applicable).
10. Clean atomizer nozzle.
11. Record level and add odorizer as needed
12. Replace Primary Filters
13. Replace Secondary Filters
14. Replace Final Filters
Electrostatic Precipitator - PCU Service
Service performed:
1.  Inspect ESP cells for the following:
     - Check and replace all missing and loose ionizer wire.
     - Check for physical damage to collection cell plates.
     - Clean grease build-up off of the high voltage insulators.
2.  Exchange electrostatic collections cells with spare cells provided by Air Cleaning Technology
3.  Rotate second pass to first pass
4.  Record ionizer voltage of all power packs
5.  Record collection cell voltage on all power packs
6.  Inspect 10K, 5K and ground wires for rust, corrosion, breaks, etc. Also, inspect HV wires terminals and replace as needed
7.  Inspect and replace debris pre-filters if needed at time ESP cells are rotated.
8.  Check proper functioning of all door safety switches.
9.  Inspect and test wash cycle functions and efficiency.
10. Set and adjust wash timer, with approval of staff. Review detergent usage to ensure proper cleaning of cells, and maximize efficiency.
11. Ensure that all cells are functioning properly and all indicator lights are lit after each service.
12. Generally clean unit.
Odor Control - PCU Service
Service performed:
1. Remove and replace odor control panels filled with a 50/50 BLEND of potassium permanganate and virgin coconut shell carbon odor control media or 100% virgin coconut shell carbon
2. Clean and inspect odor control housing for structural integrity.
3. Properly dispose spent media.