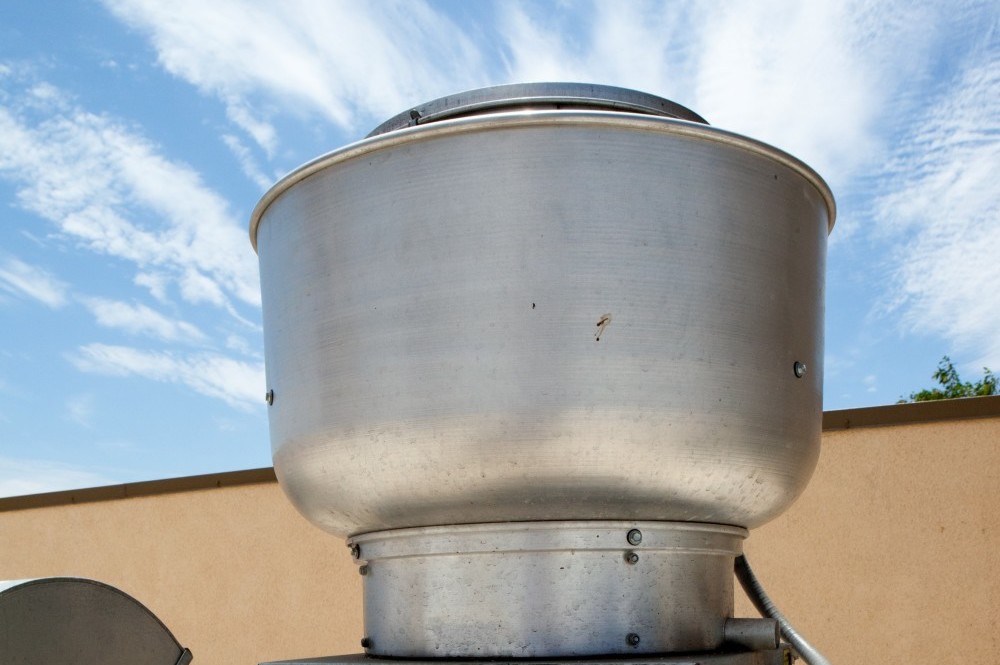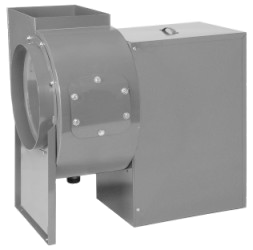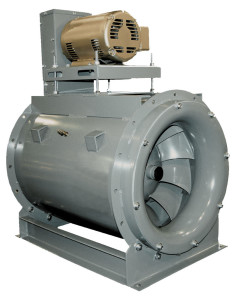 Kitchen Exhaust Fans
Industrial kitchen exhaust fans are used for extraction of air, heat, grease, smoke, steam & odors in commercial kitchens and restaurants.  Air Cleaning Technology has been a leader in installing, maintaining and servicing exhaust fans through out California and has an extensive variety of exhaust fans for every kitchen.
Centrifugal Upblast Fans
Features & Benefits:
A wide variety of motors are available to meet specific application needs.
Heavy duty construction, durable and weather resistant.
Non-overloading backward inclined wheels, blades and inlets fabricated from 3003-H14 aluminum.
Wall mount applications, units up to 24" nominal wheel can be wall mounted.
Forced fresh air through the motor compartment cools motor and ensures long motor life.
Quick release latches allow for easy access to motor compartment.
Variable pitch motor pulley allows for field adjustment and system balancing.
High efficiency combined with low tip speeds result in quiet operation.
Standard emergency disconnect switch.
Utility Set
Features & Benefits
Handles high temperature, heavy grease applications.
Curb mounted design.
Exceptional performance. Handles up to 8000 CFM and 3" w.g. static pressure.
Pleasing aesthetics - high quality powder coating on housing.
Ventilated motor housing for motor, shaft and drive protection.
Rigid motor plate assembly.
Tilt out wheel for easy access during maintenance.
Non-overloading, welded steel backward inclined wheel is statically and dynamically balanced and permits usage on high static pressure applications.
Balancing weights are welded to the wheel.
Heavy duty bearings in excess of 200,000 hours of operation.
Motor base and shaft seals provide a double layer of protection to eliminate water leaks into the building and grease build-up on motor.
Grease laden air does not enter the motor compartment, increasing the life of the motor and allowing use on high temperature and grease applications.
Discharge scoop is sealed using heavy gasket to avoid grease leakage.
Continuously welded scroll to prevent grease leakage onto the rooftop.
Grease drain centered and fully welded onto discharge elbow.
Heavy duty hinge kit.
Inline Fans

Features & Benefits
Slip fit duct connections are standard on both the inlet and outlet providing easy attachment of flexible connections.
Adjustable mounting feet on all horizontal units allows the motor position and floor/ceiling orientation to be easily adjusted in the field without additional parts or welding.
Universal mounting brackets are included on both the inlet and discharge of vertical units to allow for ceiling or floor mounting in either an upblast or downblast configuration.
Lifting lugs are provided at 3 locations around the perimeter of the fan to assist in handling, positioning and rotation of the fan in the field.
Also available in reduced length, Arrangement 3, where space is limited.
Access door is standard on Arrangement 3.
Description: Fan shall be a belt driven, tubular mixed-flow inline blower