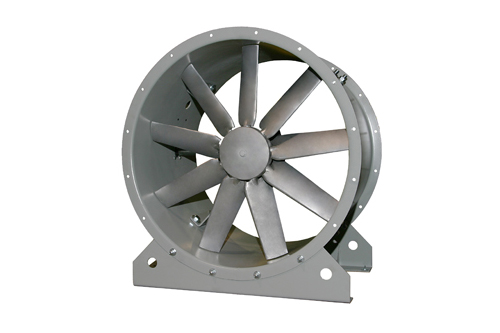 Tubeaxial Fans - Axial Fan type
These fans are axial fan units with fan wheels located in cylindrical tubes, without inlet or outlet dampers. Airfoil Impellers are high-pressure die cast of aluminum and consist of blades, hub and clamp plate. The impeller is manually adjustable through the full range of pitch angles.
Howden American Fan Company impeller components are X-rayed using real time radiography, and examined to ASTM E-155, prior to machining to assure casting integrity and quality. Impellers are precision balanced as a fan assembly to minimize vibration levels and assure smooth operation.
These tubeaxial fans feature fan casings that are made of heavy gauge steel with spun flanges and continuously welded seams. The casing is manufactured to a stringent tolerance for roundness which assures proper blade tip clearance for optimal performance.
Features
Adjustable Pitch Impeller
Available in Belt Drive or Direct Drive
Compact, Low Cost, High Efficiency, Rugged Design
Twenty-one sizes from 315mm to 3150mm diameter
Volumes to 425,000 CFM, Pressures to 10.5" WG
Available with and without guide vanes