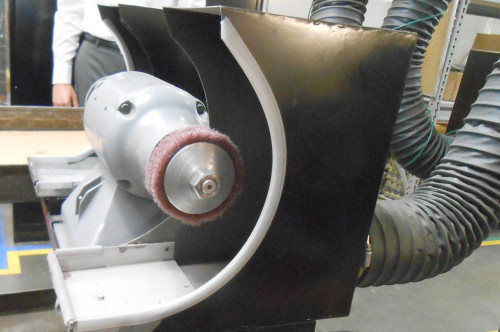 Polishing Applications
Air Cleaning Technology designed and installed this dust collection system for a Southern California manufacturing facility.  Dust and buffing rouge are pulled directly away from polishing wheels decreasing employee exposure and reducing maintenance costs.
Dust collectors and dust collections systems contain and control dust and buffing rouge from polishing wheels
Decrease maintenance costs and boost employee moral by using dust collectors to collect airborne particulate before it settles on floors, walls, ceiling and other equipment
All systems are designed to capture velocity, duct transport velocity and overall design that is in strict accordance with Industrial Ventilation Guidelines
Increase production efficiency with a cleaner, safer, healthier work place
Conserve energy by filtering out in-plant emissions thus reducing general ventilation requirements
Recommended Equipment
Combustible Material -
For combustible systems, we recommend wet style dust collection systems.  We have small units for individual machines and larger units that can be used with ducting on multiple small machines or one large machine.
Non Combustible Material -
For non combustible material, we use cartridge style dust collector.  We have those as portable units, small ones that can be used for individual machines and large ones that can be used for central systems.
Double Cyclone available